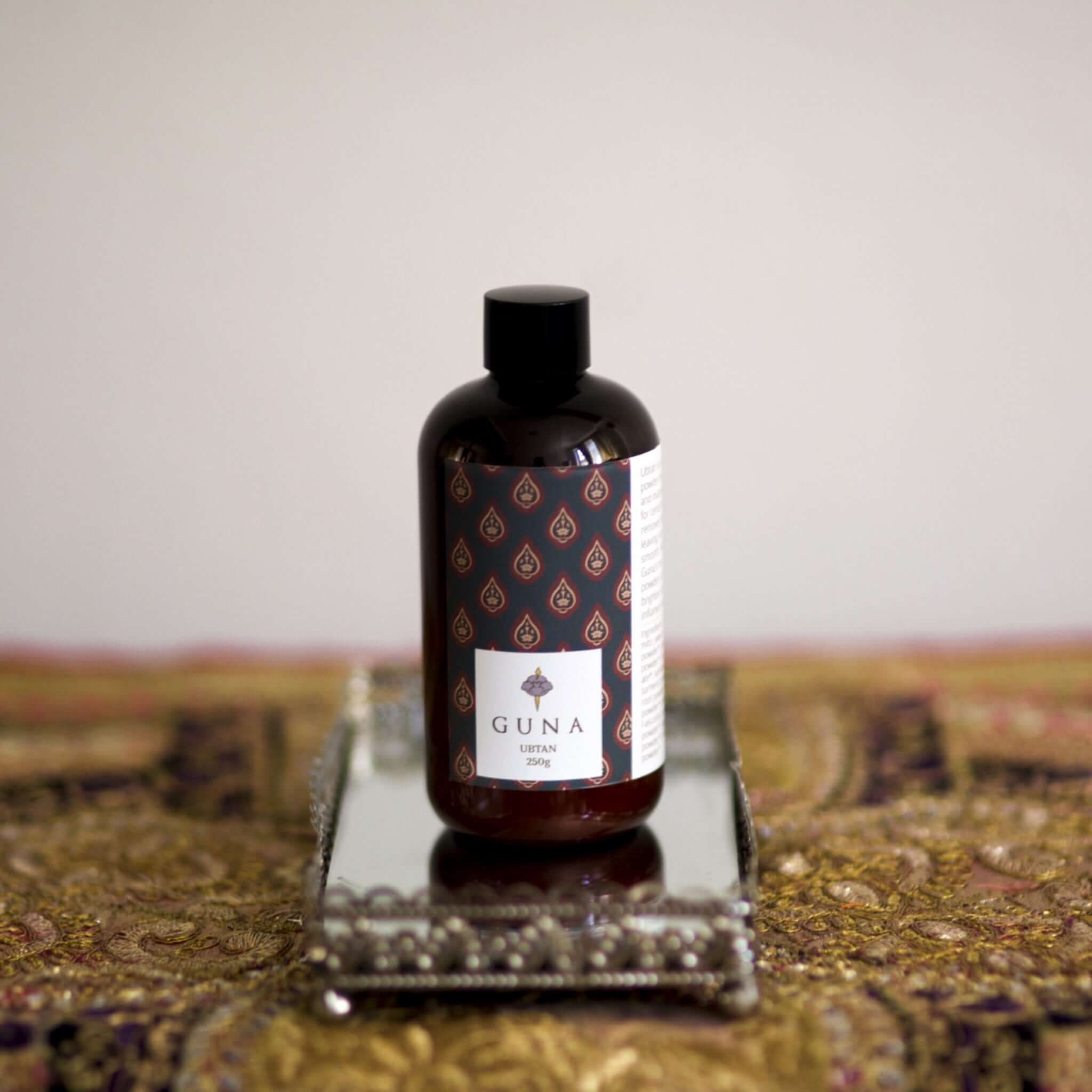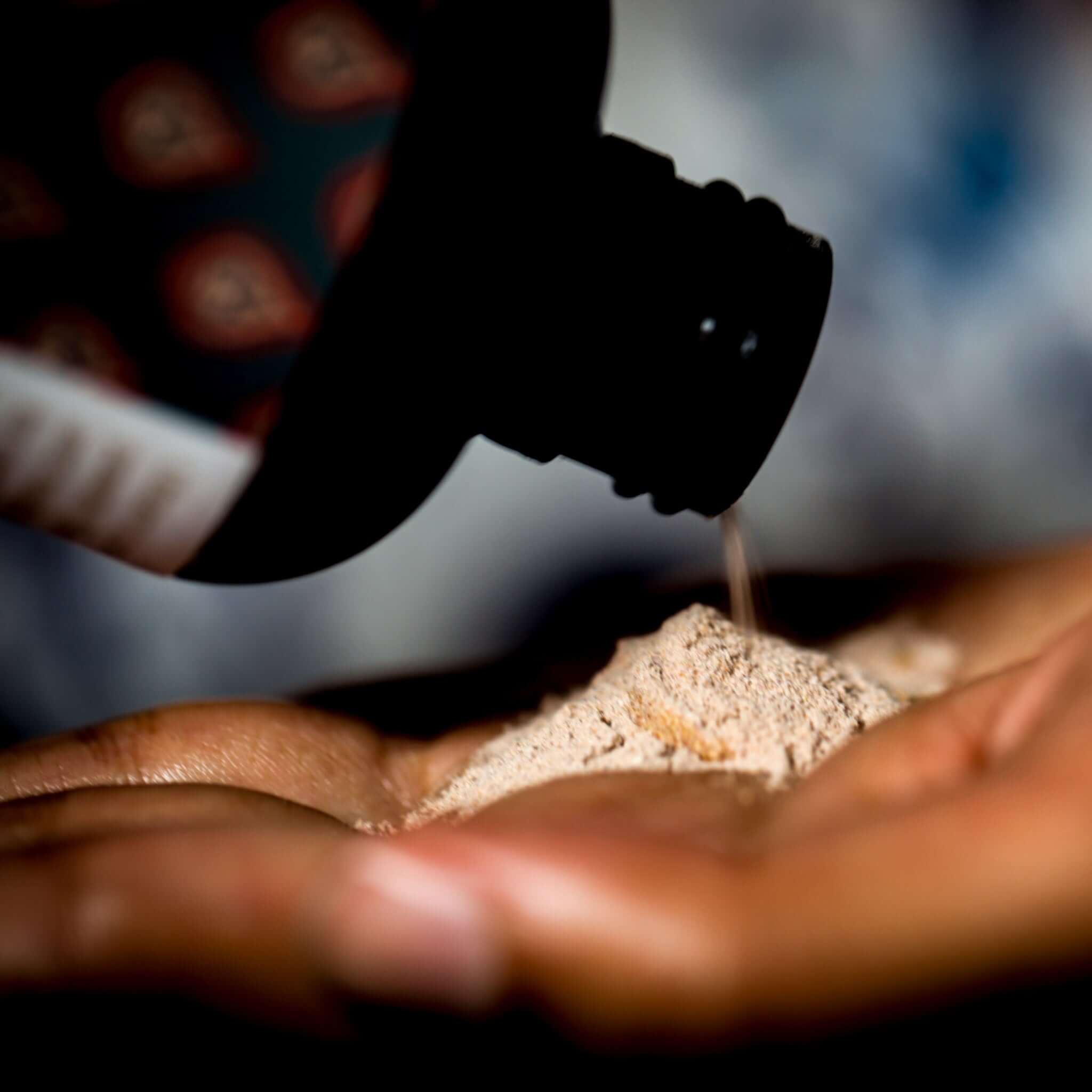 Vitamin C (l-ascorbic acid), Turmeric, Amla
Your skin's daily multi-vitamin
An updated version of an Ayurvedic skincare staple, Ubtan brings daily micro-exfoliation along with a boost of active Vitamin C and medicinal plant powders to refine and brighten skin. It's gentle enough to use everyday, powerful enough to see immediate results. Ubtan brings ancient Ayurvedic wisdom to your everyday skincare routine.
Brighter, smoother skin
Suits sensitive skin
Enables refining and exfoliation without harsh scrubbing
Ubtan is an Ayurvedic skincare treatment that's been used in South Asia for several hundred (possibly thousand) years. It is part of the Solah Shringar - 16 Steps of Adornment - an important, ancient ritual for South Asian women that's still practiced today, most commonly for weddings. In Medieval times, the royal Mughal women would also practice the Solah Shringar when appearing in court.
Ubtan is one of the first steps, purifying and preparing skin for the adornments that follow. It typically contains a blend of powders and is mixed with Gulab Jal (rose water), oil, honey or milk to form a paste that's then applied to skin.
Elevate your daily skincare routine with Ubtan, drawing on hundreds of years of wisdom, medicine and adornment rituals.
Ubtan: Ayurvedic powder cleanser
TIPS AND TRICKS
How-to
Pour a teaspoon sized amount into your palm and add a few drops of water at a time. Mix with your fingers as you go, and the powder will slowly become a mousse.
Gently massage into your skin, focusing on areas that need some extra attention. Include your neck and décolleté. Rinse off and follow with Gulab Jal or Apas Serum.

• You can rinse Ubtan off immediately, or leave for 10-15 minutes as a masque.
• For some extra goodness, add Soma Face Oil or raw honey before applying Ubtan to your skin.
• Use Gulab Jal instead of water to harness the healing power of Rose Otto.
• You can also use Ubtan as a full body exfoliant. Add some Kosha Body Oil for extra nourishment.
Ingredients
Key Ingredients
Guna's Ubtan contains a blend of potent powders that are renowned for their skin healing properties.
Highly absorbant Multani Mitti (Fuller's Earth) has been used for centuries in skincare, especially to treat breakouts and scarring. Ashwagandha is an adaptogenic Ayurvedic herb used for Rasayana (health and longevity), for creating and maintaining a healthy complexion. Turmeric is high in anti-inflammatory properties.
This powerful product also contains Vitamin C from a variety of sources - Amla berry, Sweet Orange peel plus pure l-ascorbic acid which activates with water, delivering fresh and active Vitamin C direct to your skin every day.
Full Ingredient List
Kaolin Clay, Multani Mitti/Fuller's Earth (Solum fullonum), Citrus Sinensis (Sweet Orange) Peel Powder*, Rosa Centifolia (Rose Petal) Powder*, Sodium Bicarbonate, Santalum Spicatum (Sandalwood) Powder, Arctium Lappa (Burdock Root) Powder*, Curcuma Longa (Turmeric) Powder*, L-Ascorbic Acid (Vitamin C), Hibiscus Sabdariffa (Hibiscus/Rosella) Flower Powder*, Emblica Officinalis (Amla Berry) Powder*, Glycyrrhiza Glabra (Liquorice Root) Powder*, Withania Somnifera (Ashwagandha) Powder*, Ganoderma Lucidum (Reishi Mushroom) Powder*
*Certified Organic
All of our products are natural, non-toxic and cruelty free.
FAQ
I've never used a powder cleanser. What's the benefit?
The blend of herbs and actives in Ubtan are all fine powders, so they micro-exfoliate your skin. You can remove dead skin cells and polish your skin without irritating it. It's also purely active because it's a dry powder and doesn't need any fillers or preservatives.
Is it hard to use?
Not at all. It may take a couple of tries to figure out the right amount of water to add, but once you do it can actually be quite fun to watch the powder turn to a mousse, and massage it into your skin. It's a very sensory experience.