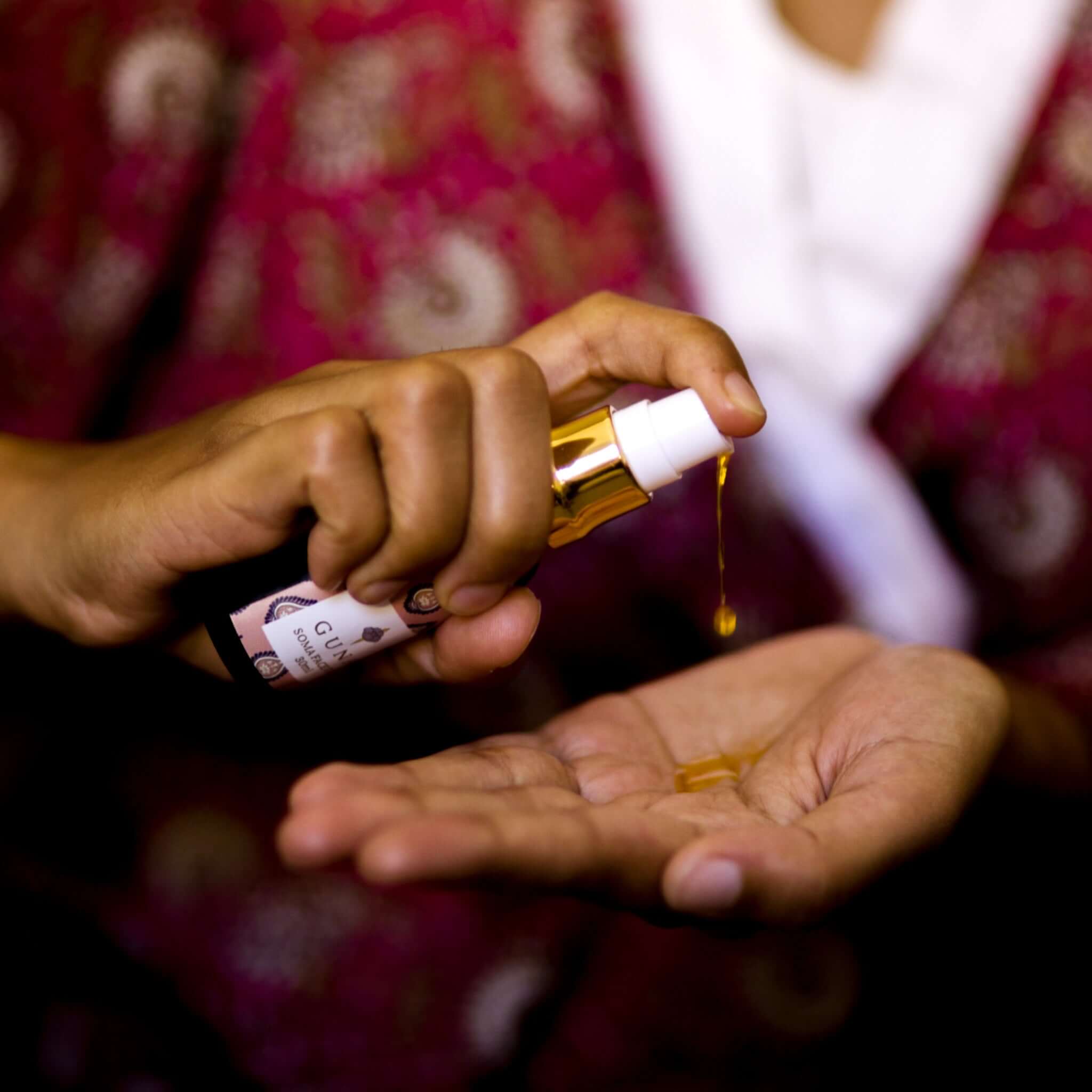 Ruh Gulab (Rose Otto), Mysore Sandalwood, Jojoba Oil
Balanced Skin Elixir
Soma is liquid gold, bringing the glow back to your skin. It's a rich, non-greasy face oil full of fatty acids, antioxidants, vitamins and precious essential oils, that leaves skin feeling balanced, supple and soft.
Suits all skin types including acne-prone, oily and sensitive skin
Wear it on its own or under SPF or makeup
Absorbs into skin leaving no oily residue
Soma is the elixir of immortality, sacred to the Vedic people of South Asia, as well as the Zoroastrians of ancient Persia (where it is called hoama). While the plant origins of Soma are still contested, ancient sutras (verses) reveal that it was an auspicious drink, with potent healing and uplifting qualities. Soma was later personified as a deity, the god of health, wealth and herbs.

Guna's Soma Face Oil draws on these qualities of healing and upliftment, creating an elixir that not only nourishes skin but also the mind.
Soma || The elixir of immortality
TIPS AND TRICKS
How-to
Twice a day massage one pump into damp skin, focusing on areas where you hold tension, or tend to have clogged pores or breakouts. Don't forget your neck and décolleté. Inhale deeply.

• You can also use Soma as an oil cleanser. Massage over warm, damp skin to dissolve dirt and makeup then use a damp Muslin Washcloth to remove excess oil, dirt and makeup away.

• For some extra richness use it with Maya Treatment Balm. Mix a few drops of Soma with a pea-sized amount of Maya in your palm, then massage into your skin.

• Use your gua sha or face roller with Soma.
Ingredients
Key Ingredients
Guna uses Ruh Gulab (Rose Otto essential oil), distilled in small batches in India using centuries-old methods, renowned for its radiance-boosting properties. Mysore Sandalwood has been valued for improving skin tone and redressing sun damage.
Frankincense evokes a meditative state while regenerating skin, and Helichrysum - also known as Immortelle - has been used for centuries to aid skin health.


Full Ingredient List
Simmondsia Chinensis (Jojoba) Seed Virgin Oil*, Rosa Eglanteria (Rosehip) Seed Oil*, Oenothera Biennis (Evening Primrose CO2) Oil, D-alpha-Tocopherol (Vitamin E - Natural), Santalum Album (Mysore Sandalwood) Oil, Boswellia Carterii (Frankincense) Oil, Helichrysum Splendidum (Immortelle) Flower Oil, Rosa Damascena (Rose Otto/Ruh Gulab) Flower Oil

*Certified Organic
All of our products are natural, non-toxic and cruelty free.
FAQ
I have oily/combination skin. Will a face oil suit me?
Yes! Face oils suit all skin types, it's just a matter of finding the right face oil. Soma is formulated to be balancing, so it works well if you have oily or combination skin. It absorbs into your skin and won't leave it greasy. Try it for a few weeks and see how your skin adapts.
Do I need a moisturiser if I use Soma?
No you don't need a moisturiser if you use Soma. Moisturisers are just an emulsion of water and oil. In our 3 Step Skincare System we use separate water-based products in Step 2: Treat, and oil-based products in Step 3: Protect. This is to maximise the active ingredients and give you more flexibility to tailor each step. You can still use an SPF or makeup on top of Soma if you like. Another option is to add a few drops of Soma to your SPF/foundation and apply them together.
I've never used a face oil. What does Soma feel like?
Soma is balanced and non-greasy. It's comparatively light, and has the light fragrance of Gulab (Rose Otto) and Sandalwood. It's not thick, sticky or heavy. It feels luxurious and silky, and leaves your skin supple and soft.