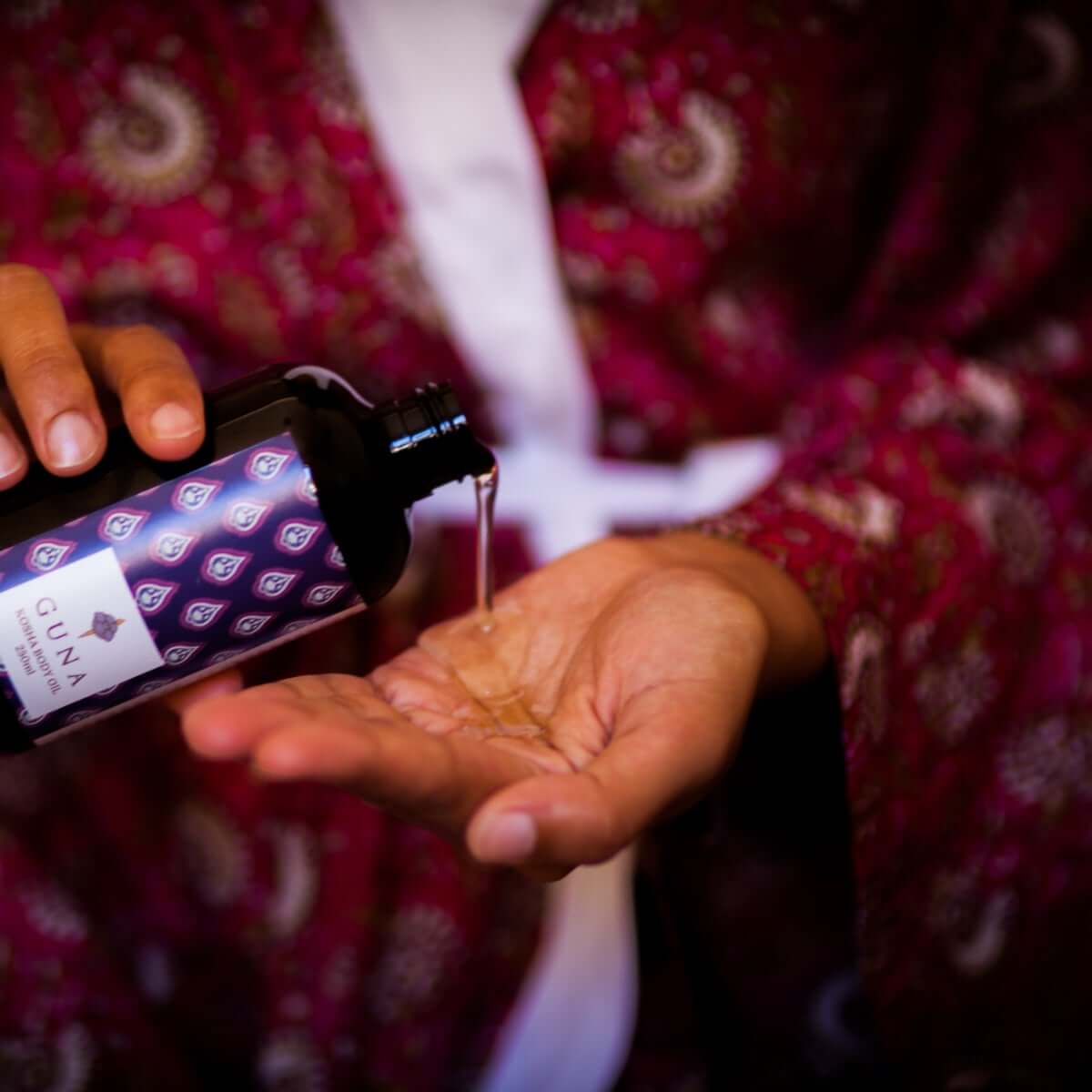 Argan Oil, Pumpkin Seed Oil, Black Sesame Oil
Nourishing treatment oil

Kosha is like an invisible veil on your skin, leaving it supple and smooth with a subtle sheen. Rich carrier oils target dry and rough skin and hair, while precious essential oils provide a gentle perfume. The ultimate full-body indulgence.


Treat yourself from top-to-toe
Richer than most body oils
Suits all skin and hair types
In Vedantic philosophy the Koshas are the five layers, or sheaths, that cover the essential soul. The Koshas are: the body, prana (energy), the mind, wisdom and bliss. Guna's Kosha Body Oil nourishes you from the inside out.
Kosha can also be used for abhyanga - an Ayurvedic ritual of self-massage with oil - to nurture the body. Abhyanga is an important part of an Ayurvedic routine and has been practiced for centuries to detoxify, cleanse and moisturise skin. Black Sesame has been used since Vedic times - the ancient Ayurvedic scholar Caraka, in his well-known treatise on Ayurveda, claims that it is the best of all oils and it's the traditional choice for abhyanga.
Kosha: the layers that cover the spirit
TIPS AND TRICKS
How-to
Treat your body and hair with this rich oil that's full of essential fatty acids, antioxidants, vitamins and essential oils.
• Massage into warm, damp skin after a bath or shower, focusing on areas of tension or concern.
• For abhyanga, massage Kosha into your skin before a bath or shower, focusing on joints and dry areas. This works especially well for dry skin, as it'll keep your skin from drying out.
• Massage Kosha into your scalp to stimulate circulation and into your strands and tips to treat dry and damaged hair. Leave it in for at least an hour before washing your hair, overnight if possible.
Ingredients
Key Ingredients
Kosha blends rich carrier oils used in Ayurveda, including Apricot Kernel Oil (skin-firming), Black Sesame Oil (prevents pigment loss in hair) and Pumpkin Seed Oil (skin elasticity and tightness) and Virgin Argan Oil (lustre for dry skin and hair).

Essential oils of White Sage, Neroli, Patchouli and Frankincense penetrate the mind and spirit, aiding a meditative state.

Full Ingredient List
Prunus Armeniaca (Apricot) Kernel Virgin Oil*, Prunus Amygdalus Dulcis (Almond Sweet) Virgin Oil*, Butyrospermum Parkii (Shea) Oil*, Simmondsia Chinensis (Jojoba) Seed Virgin Oil*, Argania Spinosa (Argan) Kernel Virgin Oil*, Sesamum Indicum (Black Sesame) Seed Oil*, Cucurbita Pepo (Pumpkin) Seed Virgin Oil*, D-alpha-Tocopherol (Vitamin E - Natural), Pelargonium Graveolens (Rose Geranium) Flower Oil, Boswellia Carterii (Frankincense) Oil, Cananga Odorata (Ylang Ylang) Flower Oil, Pogostemon Cablin (Patchouli) Leaf Oil, Salvia Officinalis (Sage) Oil, Citrus Aurantium Amara (Neroli) Flower Oil, Vetiveria Zizanoides (Vetiver/Ruh Khus) Root Oil
*Certified Organic
All of our products are natural, non-toxic and cruelty free.
FAQ
My skin is very dry. Does Kosha work?
Kosha is a rich body oil, richer than most. We've used ingredients like Pumpkin Seed Oil, Shea Oil and Virgin Argan Oil, all of which are especially good for dry skin.
To prevent skin from drying out, massage Kosha into your skin before a bath or shower, as a form of abhyanga (Ayurvedic self-massage).
For a very rich body treatment, you can mix some Universal Balm and Kosha in your palm, and then massage it into your skin. The combination of the balm and oil is especially rich, and will leave your skin super soft and supple.
How does a hair oil work?
Hair oils are commonplace in South Asia, and used extensively in Ayurveda. They're a weekly ritual, with a family member usually applying oil to your scalp and hair, giving you a relaxing head massage at the same time.
Applying Kosha to your scalp is great for your skin and follicles. Distributing Kosha through your strands and tips helps with dehydration, frizziness and roughness. With regular use, your hair will be silkier, softer and more lustrous.
How often should I use Kosha?
As a body oil, use it as often as you need. It's best used before or after a bath or shower, so your skin absorbs it.
As a hair oil, Kosha works well as a treatment once a week. If your hair gets damaged from colouring, heat, swimming or sun, you'll get best results by leaving it to soak in overnight before washing it out.