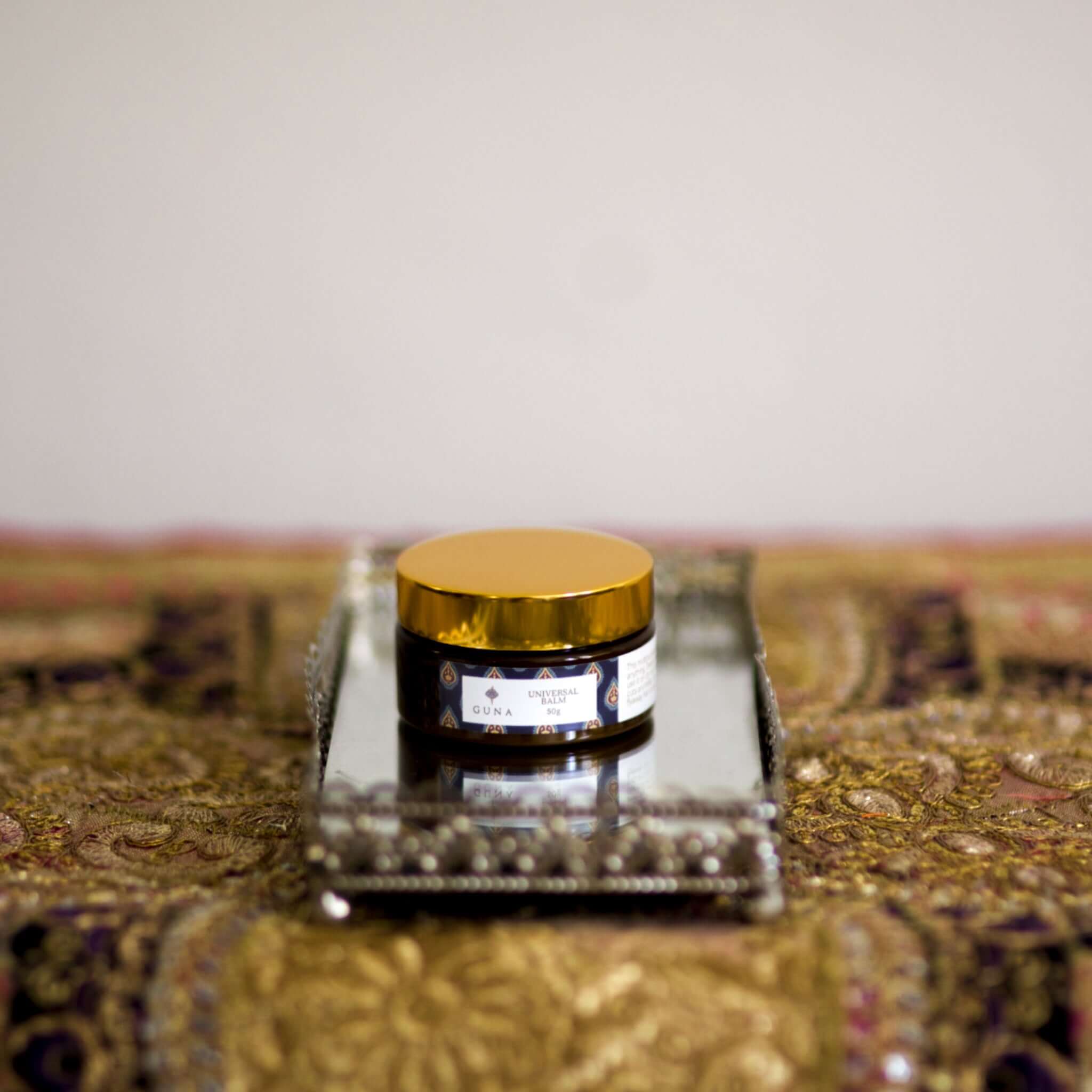 Activated Charcoal, Kaolin Clay, Multani Mitti
Multipurpose balm
Guna's Universal Balm can be used for just about anything. It's rich and smooth, with the gentle scent of healing essential oils. Use it on dry heels and hands, chapped lips and split ends. It can be used on bites, burns and scars, as well as nappy rash, eczema and itchy skin.
Never leave home without it.
Absorbs into skin, leaving it feeling soft, soothed and protected
Excellent for dry hands, especially due to hand-washing and sanitisers
Suitable for all skin types, including babies, sensitive skin, eczema and psoriasis
Shea butter production dates to at least medieval times in West Africa. For centuries, possibly millenia, its nourishing qualities made it a highly valued and effective treatment for skin and hair.
Today, the Unrefined Shea Butter found in Guna's Universal Balm is made by women's co-operatives in Northern Ghana using centuries-old methods passed down from one generation to the next.
Universal: all inclusive, versatile
TIPS AND TRICKS
How-to
Massage a small amount into skin until absorbed. Use as often as you need.

• Use on irritated skin, like cuts and bites
• Great for dry elbows, knees, heels and hands
• Mix it with some Kosha Body Oil for a rich body moisturiser
• Use it on chapped lips, sunburn and windburn
• Massage into hands and feet at night for an overnight nourishing treatment
• Use it as a highlighter for your skin, by smoothing a light film over cheekbones, the bridge of your nose, and your cupid's bow
• Mix it with powdered makeup to transform it into a cream product
Ingredients
Key Ingredients
With a rich base of unrefined Shea Butter, Almond Oil and Vitamin E, this balm is soft and rich, creating a protective barrier for skin and hair. We've added essential oils of Chamomile, Geranium and Frankincense as they've been used for centuries for their healing and regenerative properties.
To make our unrefined Shea Butter, first, shea nuts are picked as they fall to the ground, after which the nuts are thoroughly inspected to discard any bad fruit. Nuts are then boiled, sun-dried and de-husked to reveal the kernels. The kernels are ground to a fine powder and boiled in water, which makes the butter rise to the surface. The butter is repeatedly collected, warmed, melted, and purified until no impurities are left. It's then filtered, cooled and packaged.
Full Ingredient List
Butyrospermum Parkii (Unrefined Shea Nut) Butter*, Prunus Amygdalus Dulcis (Almond Sweet) Virgin Oil*, D-alpha-Tocopherol (Vitamin E - Natural), Boswellia Carterii (Frankincense) Oil, Pelargonium Graveolens (Rose Geranium) Flower Oil, Chamomilla Recutita (Matricaria, Blue Chamomile) Flower Oil
*Certified Organic
All of our products are natural, non-toxic and cruelty free.
FAQ
Can I use it on children?
Yes! Universal Balm is truly universal. It suits all skin types, age groups and many skin needs. Customers have used Universal Balm on their children's nappy rash, bites, cuts, eczema and more.
My Universal Balm has melted! What do I do?
Not to worry, it's easy to re-set your Universal Balm, and it won't make any difference to its effectiveness.
Place the jar in a hot water bath and allow the balm to fully melt. Give it a stir and then leave it at room temperature or place it in the fridge to re-set.