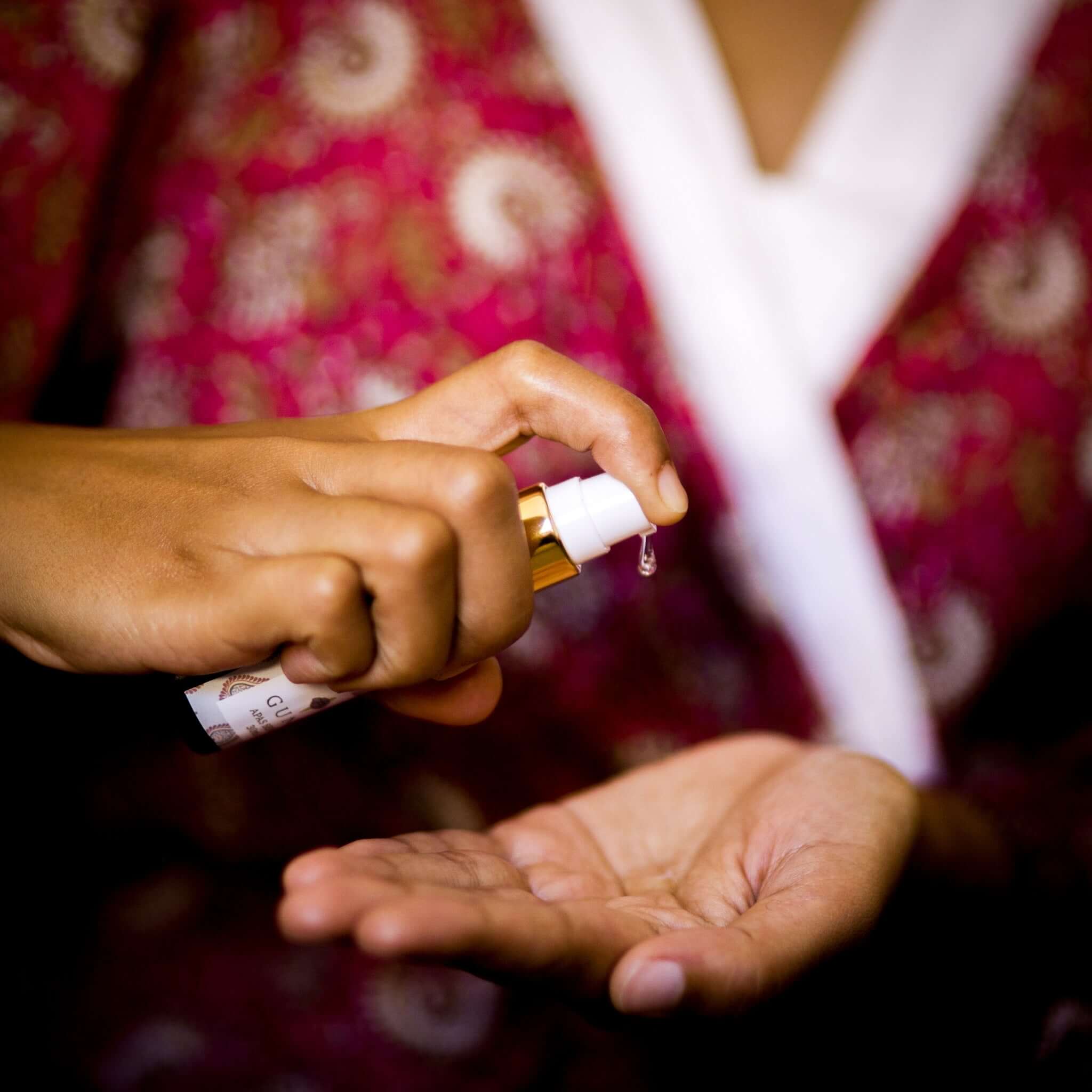 Hyaluronic Acid, Resveratrol, Niacinamide
Water-based gel
Apas is a water-based serum that delivers pure hydration to your skin. With powerful actives and a base of Rose Otto Hydrosol, Apas leaves your skin feeling smooth and refreshed without that sticky feeling. Your skin will drink it up.


Suits all skin types, including mature, dry and acne-prone
Powerful trio of actives: Hyaluronic Acid, Niacinamide and Resveratrol
Great for combating drying effects of heating, air conditioning, wind
Light, non-sticky gel that makes your skin feel smooth, supple and plump
Apas is one of the five tattvas - realities, or elements - in Rigvedic philosophy and is often symbolised as a goddess. She is the embodiment of the celestial waters, the source of all the healing, purifying and nourishing forces in the universe.
Apas the Goddess is everywhere - the waters she represents are celestial, physical, mental. Water flows through everything, bringing nourishment and clarity. Guna's Apas Serum draws on these properties, bringing them into your daily skincare and self-care rituals.
Apas:  the goddess of celestial waters
TIPS AND TRICKS
How-to
After cleansing, massage a full pump of Apas Serum into your skin, including the eye area down to your neck, collarbone and chest. Smooth it over your skin and let it soak in.

• Apas works best on damp skin
• Spritz with Gulab Jal before or after Apas, boosting moisture
• Make sure you follow with Soma or Maya to seal it in
• Check out our skincare rituals for inspiration.

Ingredients
Key Ingredients
Apas is purely active, no fillers. It's made with a base of organic Rose Otto Hydrosol and three powerful actives - Hyaluronic Acid, Niacinamide (Vitamin B#) and Resveratrol.
Guna uses Hyaluronic Acid with different molecular weights, boosting its effectiveness. It's an amazing ingredient known for holding 1000 times its water in weight. Applying HA can be great for keeping skin feeling plump and hydrated.
Studies on Niacinamide (Vitamin B3) demonstrate its effectiveness in reducing hyperpigmentation and red blotchiness on skin. It also improves skin tone and elasticity.
Resveratrol is a potent anti-oxidant that is protective against oxidative stress, which can be caused by exposure to sun.
Full Ingredient List
Rosa Damascena (Rose Otto) Hydrosol*, Glycerin (Vegetable)*, Aqua, Sodium Levulinate, Sodium Anisate, Potassium Sorbate, Vitamin B3 (Niacinamide), Polygonum Cuspidatum Root Extract (Resveratrol), Sodium Hyaluronate (Hyaluronic Acid, LMW and HMW)
*Certified Organic
All of our products are natural, non-toxic and cruelty free.
FAQ
What's a serum?
Serums are concentrated, active products that are often water-based and applied after cleansing, and before moisturising. They are generally targeted products, addressing specific skin concerns or needs.
Do I need a serum?
Not necessarily! If you're young, or want a very simple routine, you can skip the serum and opt for a spritz of Gulab Jal for Step 2: Treat of our 3 Step Skincare System. Apas is a great addition if you want something preventative, if you're noticing fine lines, or if your skin needs some balancing.
What's the hype with Hyaluronic Acid?
Hyaluronic Acid is a natural molecule that is present all over our bodies. Much like collagen, it depletes with age. Its main function is to retain moisture and keep our skin hydrated. As a skincare ingredient it can give plumping, hydrating and smoothing effects.