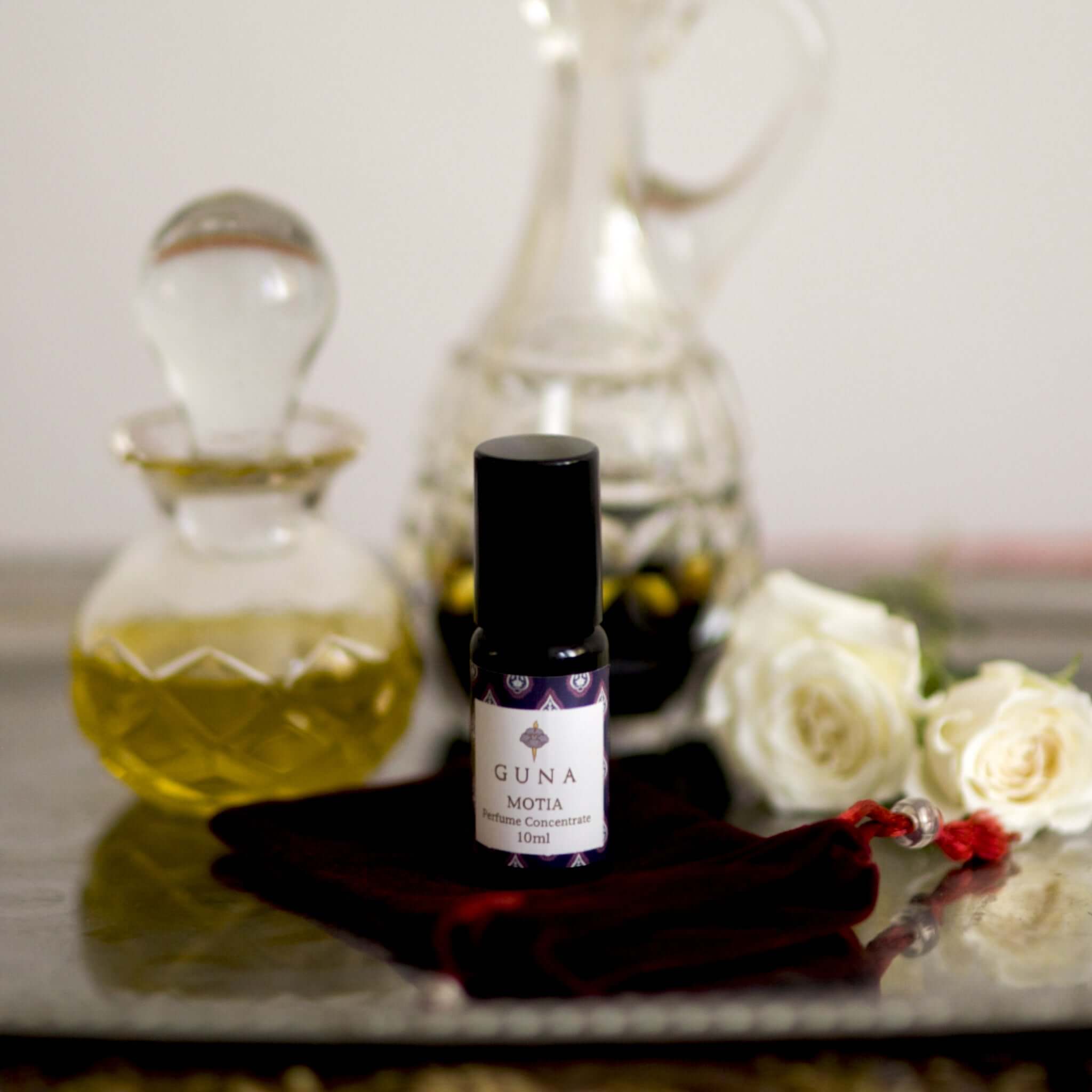 Motia Perfume Concentrate
Sweet Intoxication
This perfume captures the soul of the Motia flower (Jasminum Sambac, or Arabian Jasmine). She's a flower that reveals her fragrance under the light of the moon, the Queen of the Night, bringing a sense of euphoria and happiness. Used as an aphrodisiac for centuries, Motia is dark, mysterious, addictive, intoxicating, floral, complex and sweet but not cloying.
This perfume is strong and deep, and will not go unnoticed.
Heady, intoxicating scent that demands attention
Motia has been used to balance the nervous system
Known for removing inhibitions and inviting playfulness
Motia Perfume Concentrate
Ruh Motia || Soul of Jasmine
A striking, beautiful perfume that is more complex and deep than most jasmines.
Used for centuries to evoke lust, playfulness and intoxication.
An ancient tonic for your nervous system.
Of more than 200 varieties of jasmine, Motia (also known as Mallika) is one of the most pleasurable to experience.
It's beautiful to behold, with its creamy double-petalled flowers and glossy green leaves, and its fragrance not only smells divine but calms the mind, body and soul.
Ancient Wisdom
Bringing you centuries of alchemy, straight from the source
Kamadeva
In Vedic philosophies, one of the aims of life is the pursuit of kama; pleasure, joy, beauty, love and goodness. The divine incarnation of kama - Kamadeva - is depicted with a sugarcane bow and five arrows, each adorned with a fragrant flower, one of which is Motia.
When Kamadeva shoots these arrows, they cause infatuation, excitement and heat in the receiver.

This perfume is one of Kamadeva's arrows, it pierces the heart.
TIPS AND TRICKS
How-to
A striking, beautiful perfume that is more complex and deep than most jasmines. After the initial burst of fragrance it mellows into your skin, leaving an aura of scent around you. Use Motia when you're feeling nervous, or want to increase playfulness and creativity.
• All of our perfumes are gender-neutral.
• Apply this perfume oil to pulse points and deeply inhale.
• It will react with your skin and natural oils, transforming into a scent unique to you.
• Wear it with another perfume for a custom scent. Complements Attar Mitti and Champaca.
Details
Deg-bhapka distillation
Guna's Ruh Motia is distilled by hand using the centuries-old deg-bhapka technique, with copper pots and slow, gentle heat, managed by skilled distillers.
The flowers are grown in South India and picked at dawn to ensure the highest concentration of oils. They're brought to Kannauj for steam distillation, the preferred method for delicate flowers. The resulting oil is highly concentrated and potent, known as Ruh Motia, Soul of Jasmine.
Ingredients
Primary note: Steam-distilled Jasminum Sambac
Other notes: Signature blend of essential oils
Carrier: Jojoba Oil*
*Certified Organic
All of our products are natural and non-toxic and cruelty free.
FAQ
What makes your perfumes special?
1. Our perfumes have high concentrations of aromatic materials. They are thus potent and long-lasting.
2. Our perfumes are oil-based, which means they mature with age, rather than degrade.
3. Each perfume is made from rare and precious perfume materials with a long history of cultural significance. When you smell them, you are inhaling thousands of years of human culture and experience.
4. Our perfumes are utterly unique. They are more complex and interesting than other essential oil perfumes, and have very distinct scent profiles.
How long do they last?
If you use your perfume a few times a day, every day, it could last up to six months. If you're using them on special occasions, they can last years.
In terms of longevity, our perfumes can last for years and years. Keep them away from extreme heat to avoid damaging the scent.
Once you apply the perfume, it will last on your skin for hours. We use a base of Organic Jojoba Oil because it's odourless and also because it's similar to our skin's natural sebum. This means that when you apply it on your skin, the Jojoba Oil will hydrate it, so the perfume can sit on top rather than sink in and disappear. You may not notice your perfume after ten or so minutes due to olfactory fatigue, but people around you will still notice it.
I don't usually wear perfume. Will I like this?
Quite possibly! We have a lot of customers who haven't worn perfumes for years but love using ours. Many customers with sensitivities to synthetic fragrance, or who don't like commercial scents, find our perfumes absolutely wonderful. They are a portal into another world, and wearing them is not only a form of adornment, but can change how you feel and move through the world.
Feel free to get in touch with us if you have any questions. If you'd like to try them all, check out the Jannat: Perfume Discover Set.