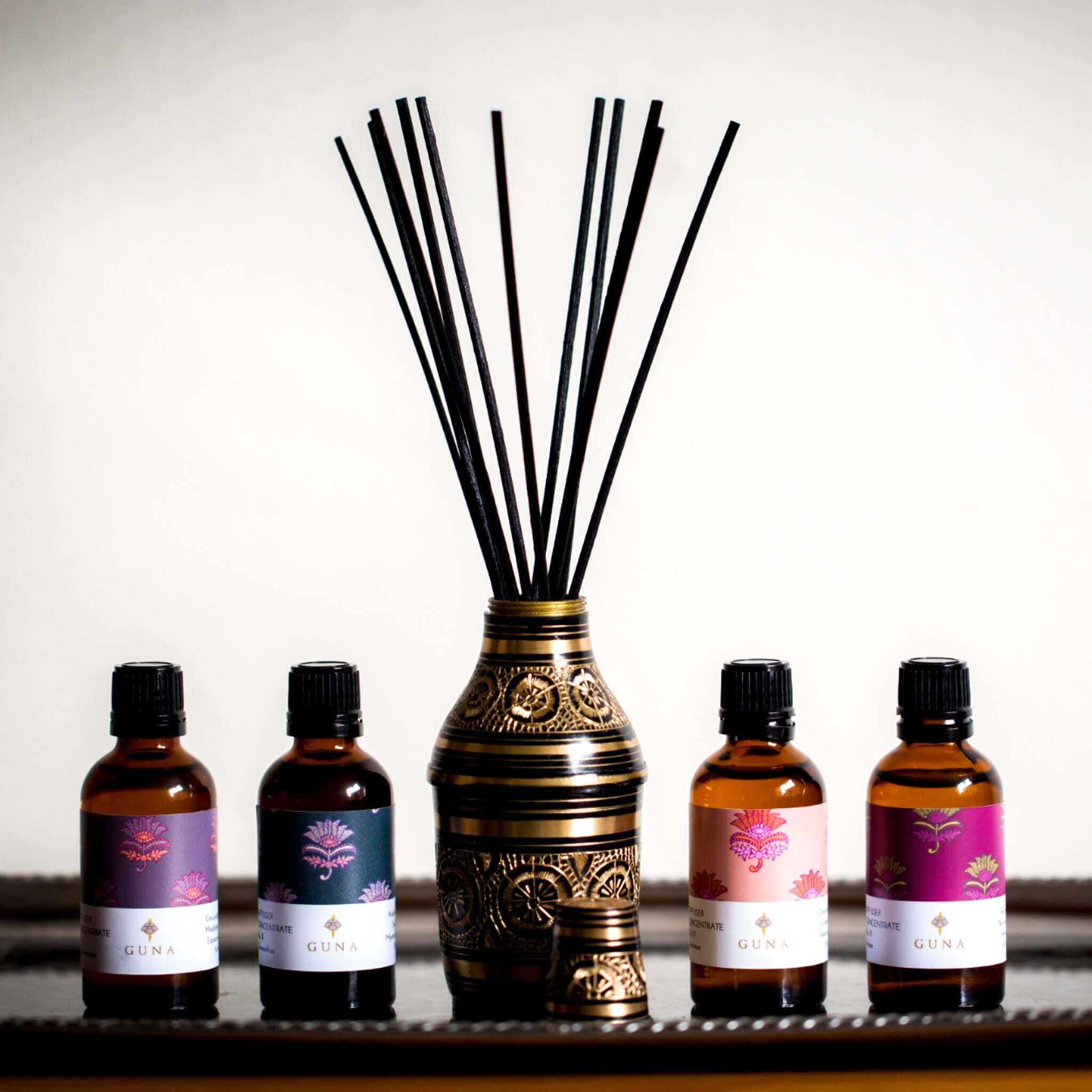 Green, sweet, fruity-floral
Transformation

Guna's Diffuser Oils are 100% oil-based and free from synthetic fragrance and alcohol. They're high in aromatic materials, made with rare and precious essential oils, in a base of organic almond oil. Our Diffuser Oils are concentrated enough to be used for reed diffusers as well as oil burners. This means they slowly diffuse the aromatherapeutic oils in your space, lasting longer than most diffusers.

This scent is inspired by the energy, force and power of Shakti - the agent of all change. Essential oils of Neroli and Osmanthus are rousing, floral and complex - sweet but not overly so. Palmarosa brings a lightness, and Patchouli an earthiness, creating a balanced, harmonious fragrance.

Draw on Shakti when you want to be uplifted, transformed, fearless.

Notes: Osmanthus, Neroli, Patchouli, Palmarosa
Shakti, primordial cosmic energy, flows throughout the universe. She represents the divine feminine, and has many different avatars. She creates and transforms, and has the power to manifest. Without her, there is only unrealised potential.
Shakti || Universal Lifeforce
TIPS AND TRICKS
How-to
Shakti is for subtle transformation. The scent is sweet, green and inviting. Use Shakti when you want to feel creative and uplifted, inspired and powerful.
• Add a few drops to your oil burner or electric diffuser and enjoy the fragrance as it fills the air.
• Unscrew the top of the Brass Bottle and pour in half of the Diffuser Oil. Place the reeds in the bottle and flip them once a week. Repeat with the rest of the Diffuser Oil.
• Dilute the Shakti Diffuser Oil in a carrier oil and use it as a personal perfume, body oil or bath oil.
Ingredients
Brass
Guna's diffuser bottles are made from hand-carved brass. Brass has been used in India for over four thousand years, from the times of the Indus Valley Civilisation.
Our brass bottles are hand-etched with geometric designs and can be cleaned and re-used with different Diffuser Oils, or repurposed for other uses. 
Ingredients
Organic almond oil and signature blend of essential oils
Guna uses no synthetic fragrance so our diffuser oils are pure, potent and free from nasties.
All of our products are natural and non-toxic and cruelty free.
FAQ
What makes Guna's Diffuser Oils different?
Our Diffuser Oils are made using natural ingredients and no alcohol.
We use rare and precious Indian perfume materials to formulate complex, beautiful and intriguing scents, like nothing you've smelled before.
They are also multi-purpose, and can be used for oil diffusers and diluted as body or perfume oils.
How long do your Diffuser Oils last?
If you flip your reeds once a week, your Diffuser Oil will last up to six months. We recommend using half of the bottle first, then refilling with the second half.