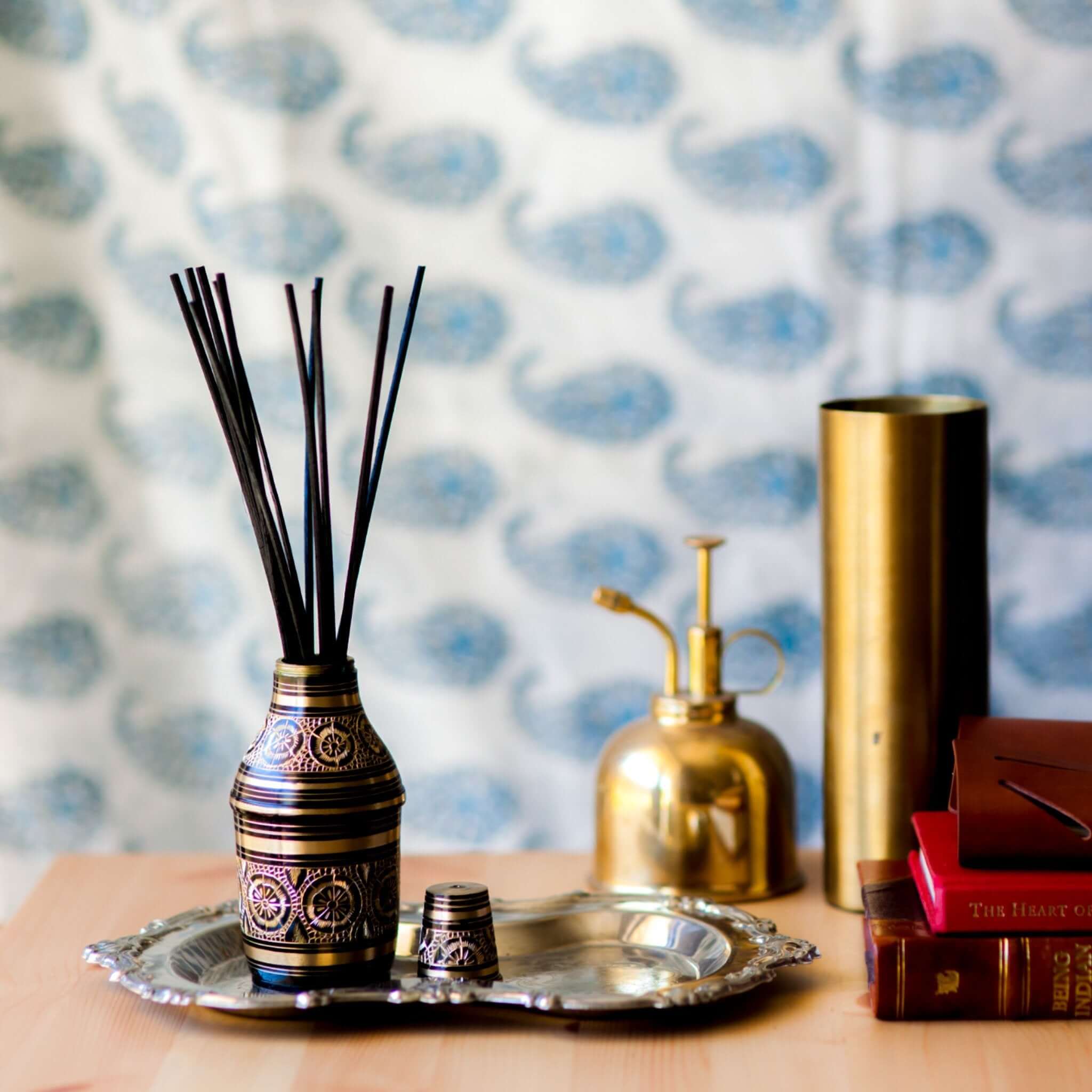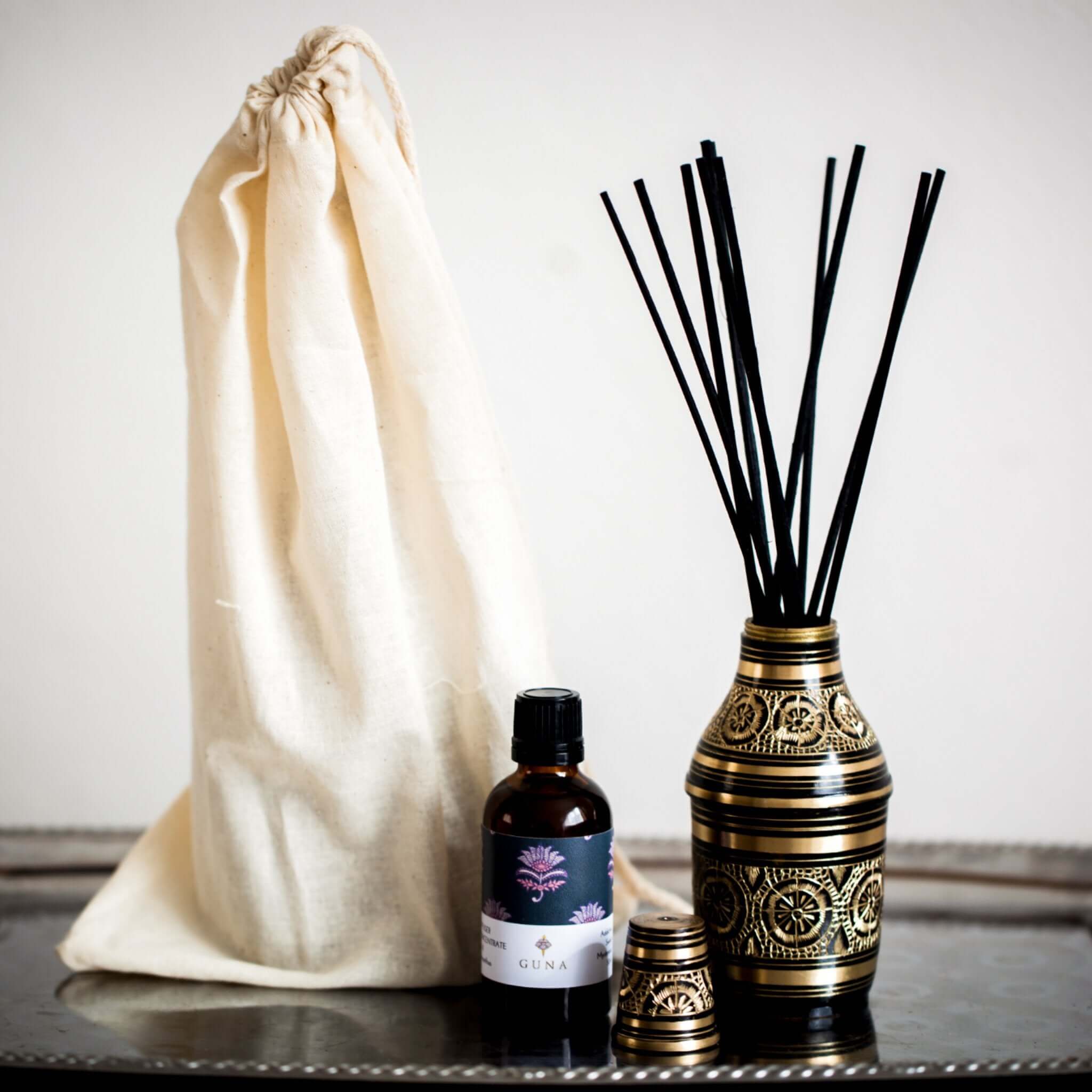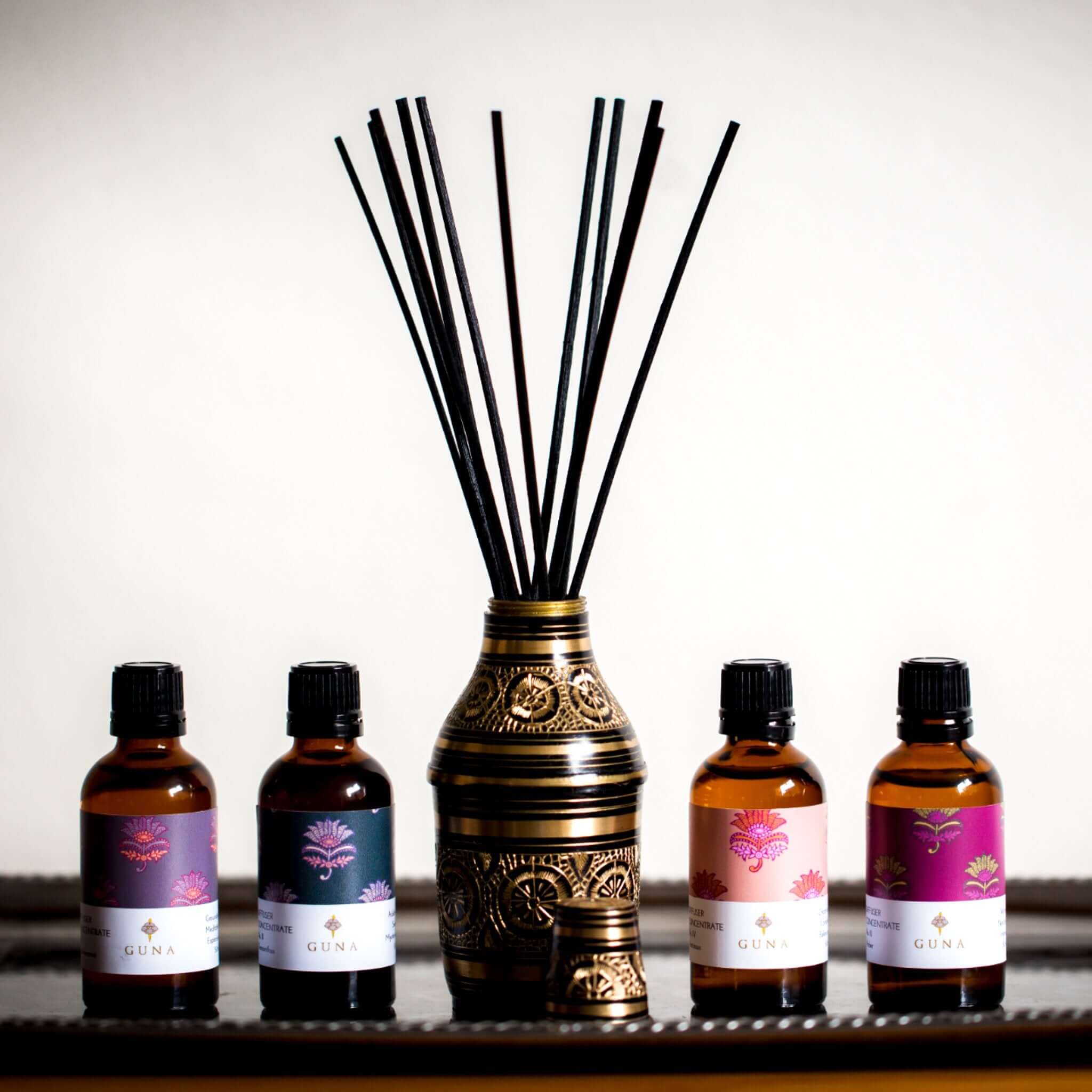 Creativity
Yakshas are nature-spirits, the caretakers of natural treasures in the earth and trees. They're mischievous, secretive and Guna's Yaksha scent draws on sweet and spicy Oakmoss to transport you to rich, fragrant forests. Choya Loban is smoky and resinous, adding mystery and depth, while Ruh Rajnigandha (Soul of Tuberose) is complex, floral and intoxicating.
Use Yaksha when you want to feel amazed, abundant and playful.
Notes: Oakmoss, Choya Loban (smoky resin), Ruh Rajnigandha (Tuberose)
Yakshas and Yakshinis are several thousands of years old. There are ancient statues over two metres tall, reflecting the importance and power of these nature spirits. They are playful and cheeky, sometimes tricky and vengeful.
Yakshas are full of magic; teasing and tricking us as we traverse through the the natural world.
TIPS AND TRICKS
How-to
Yaksha is sweet and grassy, with a hint of flowers and smoke. This scent smells like adventure and discovery, like secrets and mysteries. Use Yaksha when you want feel a sense of wonder and mischief.
• Add a few drops to your oil burner or electric diffuser and enjoy the fragrance as it fills the air.
• Unscrew the top of the Brass Bottle and pour in half of the Diffuser Oil. Place the reeds in the bottle and flip them once a week. Repeat with the rest of the Diffuser Oil.
• Dilute the Yaksha Diffuser Oil in a carrier oil and use it as a personal perfume, body oil or bath oil.
Ingredients
Brass
Guna's diffuser bottles are made from hand-carved brass. Brass has been used in India for over four thousand years, from the times of the Indus Valley Civilisation.
Our brass bottles are hand-etched with geometric designs and can be cleaned and re-used with different Diffuser Oils, or repurposed for other uses. 
Ingredients
Organic almond oil and signature blend of essential oils
Guna uses no synthetic fragrance so our diffuser oils are pure, potent and free from nasties.
All of our products are natural and non-toxic and cruelty free.
FAQ
What makes Guna's Diffuser Oils different?
Our Diffuser Oils are made using natural ingredients and no alcohol.
We use rare and precious Indian perfume materials to formulate complex, beautiful and intriguing scents, like nothing you've smelled before.
They are also multi-purpose, and can be used for oil diffusers and diluted as body or perfume oils.
How long do your Diffuser Oils last?
If you flip your reeds once a week, your Diffuser Oil will last up to six months. We recommend using half of the bottle first, then refilling with the second half.